Introduction
With so many different accessories on the site, it can be difficult to pick the right one. Each accessory serves a different purpose and may have a different use, so here's an explanation of each accessory and who might get the most use out of it.
Lanyards
This is the most standard type of ID accessory for displaying an ID somewhere where you may also need to hold other items. ID Creator has a large selection of lanyards for every purpose. Lanyards come in all different styles, including breakaway, rhinestone decorated, and more! Many of our lanyards come with swivel clips that can hold a variety of different badge holders and accessories. Lobster clasps are somewhat smaller and heavier. Lanyards are also nice because they are cheap and easy to order in bulk.
Breakaway vs. Standard Lanyard
A Standard lanyard is a cord with a clip or clasp at the end for attaching ID holders, slotted cards, keys, and more!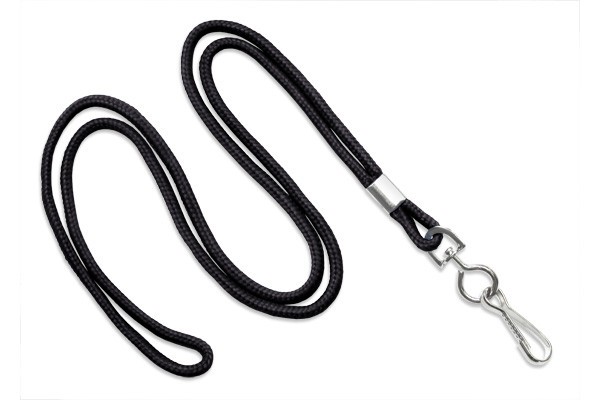 Breakaway lanyards are used in the same way and offer greater safety in busy workplaces such as daycare's and schools. If pressure is applied to the lanyard or it is suddenly pulled, it will break apart instead of causing choking or injury. The lanyard is easy to clip back together.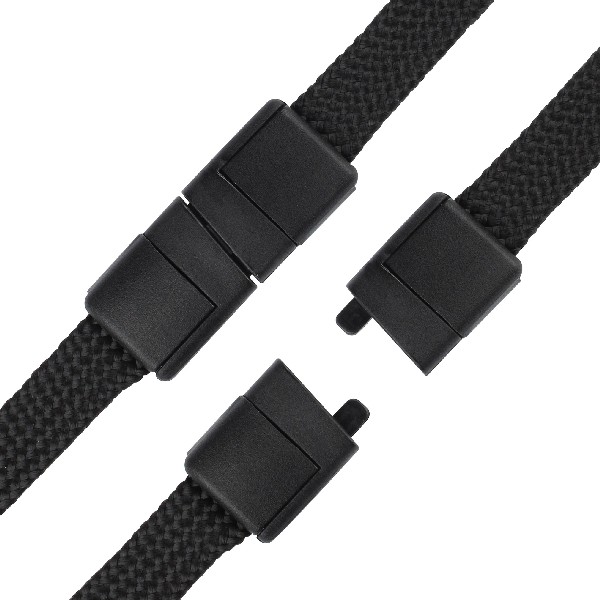 Flat vs. Round Strap
Flat Strap: The lanyard is great for medical offices, sports and fitness facilities, nursing care, and hospitals. The sturdy lanyard is made of high-quality polyester cording and features a sturdy swivel hook for attaching ID, keys, and more.
Round Strap: This Lanyard is perfect for anyone looking for an affordable lanyard for their ID Cards or Badges. This lanyard comes with a 1/8" round braid and nickel-plated swivel hook for easy attachment to a badge holder or directly to a slop-punched card.
Swivel Hook
Swivel Hooks are great for easy attachment to ID Badges, ID Card Holders or keys! The rotating steel swivel hook means your ID will not become tangled during the work day.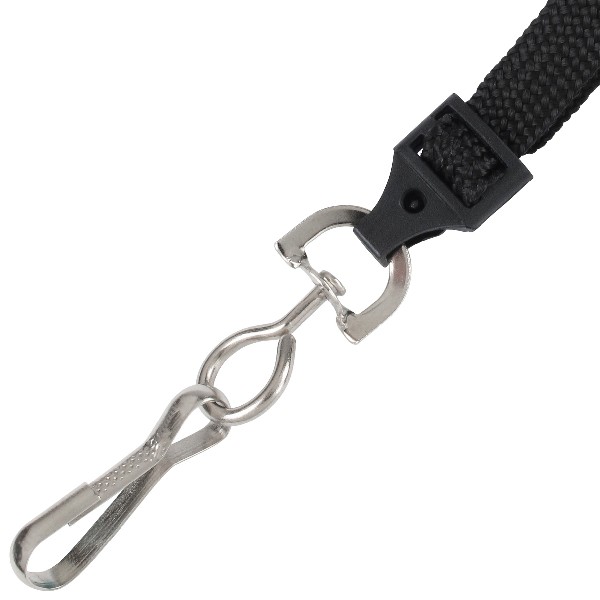 Badge Reels
Badge reels from IDCreator provide the maximum security for ID badges and at the same time make them easier to reach and utilize. Reel operation is smooth and seamless. Badge reels boasts a small but sturdy clip to keep it attached to your clothing and include a vinyl strap to attach a slotted ID card or ID card holder. These are the best for holding cards in place and making sure they lay flat.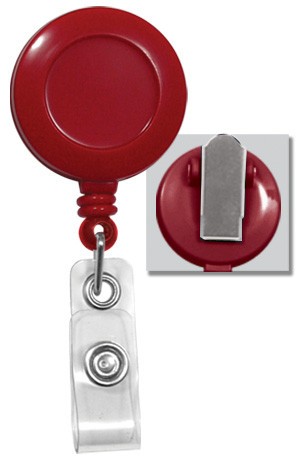 Clamp or Clip
Clamp: A badge reel with a card clamp eliminates the need to slot punch ID cards.
Clip: A badge reel with a clip attachment is versatile and increases user accessibility.
Slide belt clip - conveniently located belt clip will allow you to hook this product to your clothing with ease.
Swivel belt clip - belt clips are tangle free and are great to have for jobs where an ID attached to a shirt is not appropriate.
Swivel spring clip - this sturdy spring clip swivels for versatility and ease of access.
Reinforced belt clip - offers convenience and security, this sturdy clip is built to last.
Alligator clip - offer a firm and sturdy hold.
Carabiner
The Carabiner badge reel offers an exceptionally sturdy way to attach IDs and access cards. Carabiners are known for their superior strength and durability and for those that like to attach IDs to their belt, the Carabiner Badge Reel is a durable and convenient option. This is a great badge reel option for those that work in heavy industries, deliver companies, and high-volume warehouses. The easy to retract reel means ID or Access cards are always just seconds away and easy to position for scanners or people to see.