Start by looking in the Badge Maker "Get Started" tab to see the different template designs offered. The left side will offer the different Template Categories.
Once you have picked your template design, click the Green Next arrow on the right side. This will take you to the Card Designer tab to start customizing your ID.
Or, you can go to the tab that says, 'ID Card Templates' on the home page, select your desired template, and then click "Add to Cart". This option will take you the Pre-Made Template Order Form to fill out with your information and photo to be customized onto the template, and we will create the card for you when you submit your order.
If you're planning to customize an ID template on your own and once you open the ID Badge Maker, the Badge Card Properties panel on the right side will let you edit the Front-side and Back-side of the ID card. You can add background color or different lamination options.

To add an image on the ID, use the Image Properties on the left and click 'Upload Image'. You can also choose to upload images via Webcam or from the Images Library.
Once you have uploaded your new image, it can be resized using the Image properties panel or by clicking on the image and dragging the small white boxes that show on the corners the image.
To change the text on the ID, click the text and use the 'Edit Text' panel on the left. The text can be changed for the font, size, or location.
To add more text to the ID, click the 'T' icon and you can then place a text box onto the ID by clicking on the area of the ID where you want the text to be added. Use the 'Edit Text' panel on the left to fill in the text box.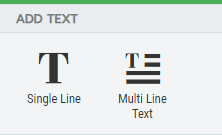 If you would like to add a back-side to the ID, click the 'Backside' option.
You can choose the 'Convert to Template' option to use the same card design for multiple IDs
but have the information change from card to card. See our article 'Convert to Template' for more detail.
Note: If you would like to add different options and accessories to your card, use the Badge Card Properties panels on both the left and right side of the editor screen.