Introduction
The use of QR codes, short for Quick-Response code, has continued to increase along with the adoption of smart phones. QR codes are useful in many applications, from commercial tracking to personal convenience, because of it's 2 dimensional coding that can hold up to 2,500 characters of data!
With the rise of the QR code, more and more organizations are utilizing this technology for their ID cards.
Common QR Code Uses on an ID Card
Contact Information
Instead of passing out business cards that are most often times thrown away or misplaced, organizations are adding a "VCard" QR code to their ID cards for customers or the community to scan with their phone. When a VCard is scanned, contact information will be added automatically to the person scanning the codes phone.
A VCard can include: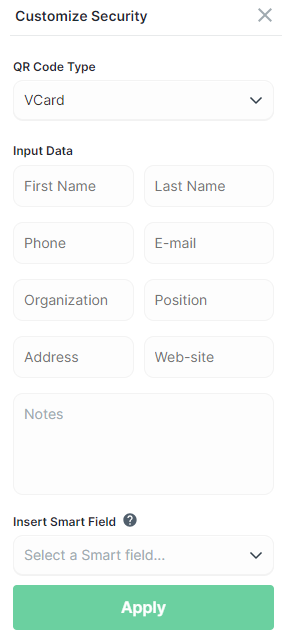 Access Control
The flexibility and customization QR codes provide, allows for a cost effective and simple method of access control. Using QR codes on an ID card depends on your security system but many do offer QR code scanning capabilities that would allow you to add QR codes to each ID card.
Timecards
Organizations can use QR codes on employee ID cards to clock in and out of their shift.
How to Add QR Codes to ID Cards
1. Select an ID template in the Badge Maker or create your own from scratch.
2. Click "Security" on the left hand side of the screen and then click "Add QR Code" on the top of the popout screen.
3. Select the type of QR code you would like to use. Choose from:
- Text
- URL
- Email
- Phone Number
- VCard
4. Input your data into the corresponding field or add a smart field if you're making multiple ID cards.
5. Move and/or resize the QR code on the ID card to fit into your ID template.